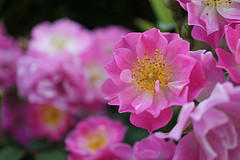 Newly Betrothed? Here's Where to Create a Wedding Registry Online!
October 22, 2015 | greystar
Whether you're hoping to receive luxurious pieces that will fill your home with elegance or simple, functional items that you need to start your life together, there are an impressive number of websites that make creating a wedding gift registry easy. Here are three great sites to use for your wedding registry.
Amazon
Registering with Amazon is the ideal choice for the hip, tech-savvy couple on their big day. The popular shopping website sells everything from kitchen appliances to cleaning tools to electronics, and their wedding registry page makes it easy to add all of your favorite items to your list. You can even add items from any and all stores around the web!
Pottery Barn
If your style is a bit more elegant and refined, the Pottery Barn website is another wonderful online resource for telling your guests which gifts you hope to receive. The signature "Whole Home" registry allows you to separate your registry by each room in your house, which makes it easy to choose the items that you really need.
Target
With a personalized profile that includes a cute picture of you and your significant other, Target's wedding registry page is tailored to your personality every step of the way. The items that you want are automatically separated by type and function, and guests can easily make purchases by using the "Add to Cart" button near each gift.